Height safety and industrial rope access
Height safety and rope access systems
Height Safety - DESIGN AND INSTALLATION
Summit Access Solutions are leaders in Safety design.  All facets are taken into consideration when planning a height safety system. Layout and configuration, access, materials, engineer consults, and budgets are all factors considered to create a safe and functional solution for any building. 
We strive to offer the best value for money in accordance with the Australian industry standards. We work closely with our preferred suppliers SAYFA, Hilti, and Sala to ensure quality, confidence and customer satisfaction in the products we use. Our attention to detail and care ensures your business is delivered the best system in height safety. 
A design may include any of the following: 
Summit Access Solutions has designed and installed complete roof safety systems with Pro Build, Adco, Main On Construction, and Sydney Uni.
Talk to us today about a design and quote.
Height Safety - Certification & Recertification
All height safety and access systems are required, by Australian law, to be tested and certified to be deemed safe on an annual basis. Summit Access Solutions (SAS) is qualified to carry out this industry standard testing and has extensive experience and knowledge in this area. Each certification is supplied with a certificate of currency and a report on systems viability whilst each anchor point and system component is individually tested and tagged.
Once a year your height safety system should be certified according to Australian law. We provide yearly reminders around 30 days in advance of the time lapse and act swiftly and efficiently when certification is required.
SAS will provide competitive quotes on any part of a height safety system that fails testing, or for any system that requires upgrading to meet current Australian Standards. Systems will be made compliant and safe to specific manufacturer's standards.
It is quite common in this industry for anchor points and height safety systems to need auditing over time. This investigation is carried out by SAS where clients are either unsure of the effectiveness of their system, or whether it is adequate for the purposes intended.   
As standards within the industry change, there can be minor updates that need to be adjusted to a system to keep it compliant.  
SAS prides itself in being up front and giving options that are non-obligational and offer complete coverage whilst being affordable and user-friendly.
Rope Access - Repair and Maintenance
Our certified experienced rope technicians with trade qualifications are ready to meet all your needs in those hard-to-reach places.
At Summit Access Solutions there is nothing our trades cannot deliver so please call us and we can discuss yor specific needs.
Repair may include any of the following: 
Rope access is a cost-effective solution to building maintenance. While scaffolding can be expensive and intrusive, using rope access allows the job to be performed quickly and safely with excellent results. 
General maintenance: 
Summit Access Solutions (SAS) is an industrial rope access and height safety systems company, operating within the Greater Sydney Metropolitan area. Our main office is located in the industrial district of Marrickville, Sydney.  
SAS specialises in design, installation, certification and recertification of height safety systems. We additionally offer repair and maintenance for all buildings and structures by qualified rope technicians who can access any hard-to-get to place.
We only employ trained IRATA rope access technicians, all of whom hold trade qualifications. Our emphasis is on quality workmanship, with a focus on safety, while adhering to the Australian national standards.
Here at Summit Access Solutions we pride ourself on cost effectiveness, competitive pricing and quoting in this specialised industry. 
We value customer satisfaction and place a strong emphasis on client relations to ensure all your needs are meet on time and within budget.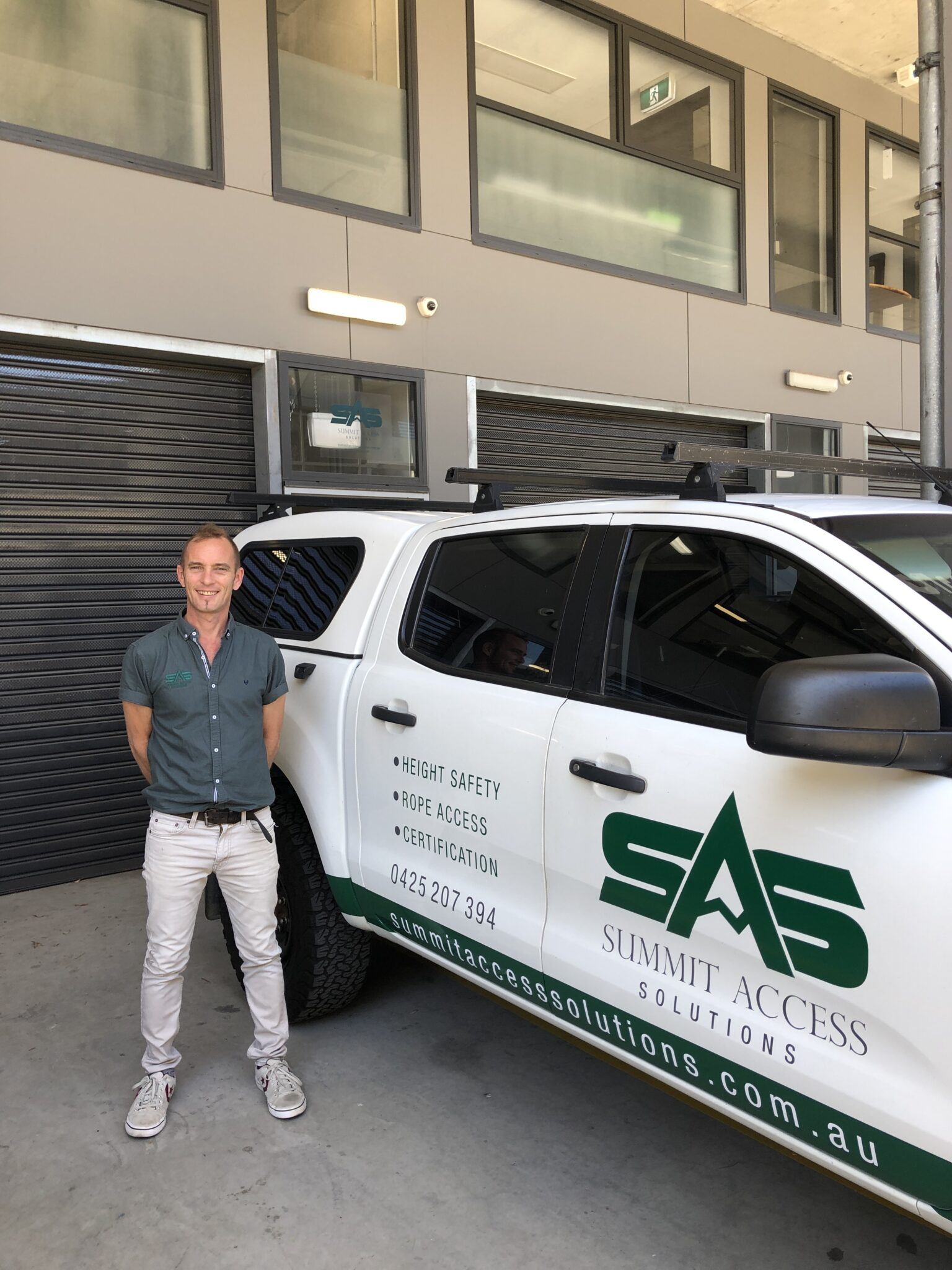 Check out our wide range of services
We'll hang off the side of your building so YOU don't have to!